Tribute to my Grandmother
My grandmother was the kindest, most loving, giving person I have ever known.
Every nurse that cared for her made a point to tell me she never complained and always smiled no matter what pain or discomfort she was experiencing. Several people who came to her funeral said she never said anything negative about anyone. There are no words in this earthly language to adequately express my love for her and the love I felt from her.
My grandmother was the youngest graduate of Salvation Army Officer's School in history at age 17. She worked with the Salvation Army Home League for over fifty years. She followed the motto of the Home League: 'I will live a pure life in my house …' (Psalm 101:2b). She was buried in her Salvation Army uniform. The banner that draped the coffin said, "Promoted to Heaven.
Grandma is the reason I know Jesus. She told me Bible stories and took me to church. But mainly, she showed me the unconditional love of Christ. She helped me memorize Scripture (and the capitals of 49 states). My Grandmother was a prayer warrior. Throughout my life, in unexpected times, I've felt a special grace around me, and I know it was from her prayers. I always knew I could depend on her over the years to lift up me, my children and my grandchildren.
Grandma loved to sing and play the piano. She had throat issues and couldn't sing very well, but she made up for it with her enthusiasm. She bounced while singing hymns. My grandmother taught me every song I can think of that I taught my children, and they taught to their children, from Jesus Loves Me, Deep and Wide, The B-I-B-L-E, Jacob's Ladder, This Little Light of Mine, Jesus Loves the Little Children, This is My Father's World, to Onward Christian Soldiers.
Cabin on the Lake
Growing up, my favorite memories were made at Grandma's house in Sebring, Florida. From the age of two to five, I lived with my grandparents in a two-room cabin (living room/dining room/kitchen/bedroom and a tiny bathroom). Poppy poured a concrete walkway from the cabin to the lake and scribbled "Robin's Roost" on it. (It is still standing today.)
They built a large home next door while living in the cabin because they could afford it. It took a long time (they bought one door or truckload of bricks each payday). When the 2000-square-foot house was finished, it was fully paid for.
Later visits to my grandparents' house included plenty of home cooking, bedtime stories, beautiful flower gardens, citrus trees, Cracker Jacks, M&Ms, and playing with their border collie (they always had a border collie — five in my lifetime). My favorite lake memories are of long, exhausting swimming, boating, and fishing days. We all collapsed in lawn chairs for afternoon naps on the lovely screened porch that ran the length of the house after an early, busy morning. The lake breeze mixed with the scent of constantly blooming flowers was like a sleeping pill.
My grandparents bought a house in North Carolina in the early 1970s and lived there year-round but spent the winters in Florida. In 1972, I married and moved to North Carolina to be closer to my grandparents. We went to church and Bible study together. My grandmother taught me how to plant and grow vegetables. For several years, I assisted them in planting, maintaining, and harvesting a garden at their home.
As my family grew, the family garden was relocated to my house. I recall spending hours on the porch watching children play while snapping beans or shucking corn. Grandma taught me how to can and freeze virtually any vegetable. She showed me how to make jelly, jam, and preserves out of apples, plums, peaches, blueberries, blackberries, and raspberries. I learned how to pickle cucumbers and watermelon rinds from her. She showed me how to make delectable buttermilk biscuits.
The seeds my Grandmother planted in me — her love of Christ and God's Word, as well as her love of Jews — are still growing today. When I was a teenager, Grandma introduced me to Corrie Ten Boom, Phillip Keller, Richard and Sabina Wurmbrand, various missionaries, and others. I was shocked to learn that the Holocaust occurred during my mother's lifetime. These small seeds grew into a strong interest in Jewish history in me. Twenty years ago, I began promoting books about the Christian's Hebrew heritage in the homeschool community. The fruits of these seeds she planted can be found in my life, my children's and grandchildren's lives, the books I've written, and my websites.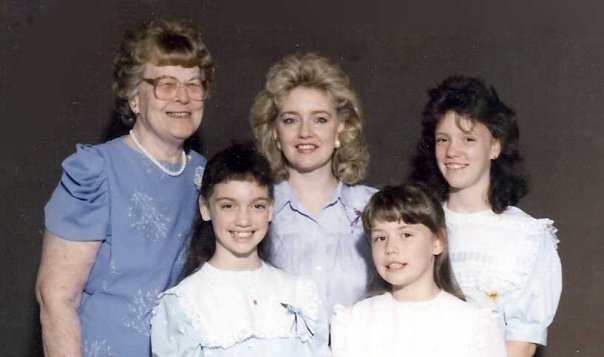 My Grandmother's Final Lesson to Me
When you get a call about a loved one in ill health in another state, it seems heartless to even have to think twice about being there for them. But the reality is alternatives must be considered. We received a call that Grandma had possibly had a stroke. She was unable to talk and was in and out of consciousness. We had the same thing happen the year before and I stayed by her side for a month. We just weren't sure we could afford another trip. My husband and I prayed about it and waited for the Lord to answer.
Three days later, I woke feeling it was time to go to Florida. My husband immediately agreed (when it is from God, you and your spouse will have the same answer.) We left that day and arrived at 9:00 a.m. the next day. The hospice nurse was sitting with Grandma, lying very still and quiet. I went to her bedside. Her stunning blue eyes grew wide and she began to make guttural noises trying to talk to me. She knew who I was; I could tell she had been waiting for me. She tried to speak for over thirty minutes before I convinced her that I knew what she was trying to say and that I wouldn't leave her. She calmed down and drifted to sleep. The hospice nurse told me she hadn't made any sounds or recognized anyone for several days!
I spent the next day with her while she drifted in and out of sleep. My mother, aunt, and I sat with her, reading Scripture, singing her favorite hymns, and sharing stories. Her eyes were open, but it was unclear if she knew who we were. She went to be with the Lord around 5:00 p.m. I will never forget the precious moments we had together the previous morning when I know she was saying she had been waiting for me and she loved me. Years before she became ill she told me repeatedly to remember Ecc. 7:1 The day of one's death is better than the day of one's birth. I knew she was saying that to me again.
At the funeral, I knew I was looking at an empty shell. Her body remained, but she was gone to be with Jesus. I realized how blessed I was to be with her in her final hours.
I thanked God for leading us at just the right time. My grandmother's last lesson for me is nothing is too insignificant to take to the Lord in prayer, and His timing is perfect. God is never late. He who created this universe from nothing, who sees the end from the beginning, who is, in Himself, all wisdom and knowledge, works all things out perfectly at the right time. It may not be "in our time," In His perfect time, Yahweh will accomplish His divine purpose. "He has made everything beautiful in its time." (Ecclesiastes 3:11 ). God leads us step by step, moment by moment if we will listen. Afterwards, when we look back in hindsight, we discover how God led us.
God uses important moments of our lives to show us in His will through life. When you pray about a difficult decision, God will answer, and you will know in your deepest being, in your heart of hearts, what God is calling you to do. Our job is to pray, listen, and obey.
Do not conform yourselves to this age but be transformed by the renewal of your mind, that you may discern what is the will of God, what is good and pleasing and perfect. (Rom. 12:1-2).
In all thy ways acknowledge him, and he shall direct thy paths." (Proverbs 3:6)
I love to go fishing. The smell of the lake and the feel of the lake breeze brought back memories of those happy days with my grandparents, and I thanked God again for the blessed, precious memories and influence they had on me. I am so happy to know grandma is in heaven with a new strong perfect body. And I know she is doing something she always wanted to –worshiping God with a beautiful singing voice.
Rest in Peace, Grandma. I can't wait to see you again in your beautiful new home!
---