Hearing God
31 Bible Lessons and Bible Journaling Ideas
Wouldn't it be great if we could call God on the phone or text and have a conversation with him? What method do you use to hear his voice? How can you know what you think you're hearing isn't your own subconscious? What role does the Bible play in your life? What if God's message isn't clear?
The answer is to concentrate on developing our personal relationship with our Father rather than on individual behaviors and decisions. You'll receive profound spiritual insight into how we can hear God's voice clearly and create an intimate partnership with him in this class 
This is a Bible study and Bible journaling class. In it, you will learn how to hear God's voice and be led by the Holy Spirit. We will look at a verse a day for 31 days on hearing God's voice. Each daily lesson will include my Bible journaling to help you get ideas for your Bible journaling. Read more on Memory Dex Cards and Treasure Journals inside the class.
How it Works
Enroll in the class.
Download the free Bible prompts printables.
Optional: Get the Hearing God Kit (printable or digital)
Log into the class and read the lesson every day.
Copy the verse: Use a Bible, Notebook, Junk Journal, Dex Cards, or whatever means you want to Bible journal.
Read the daily lesson, write out the verse and journal your thoughts about what you are learning.
Share your Bible journaling in the Bible Journal Love Circle Facebook Group.
Printable Bible Journal Prompts
The Bible prompts are available in Treasure Journal size and as Dex Cards. You can download both from the lesson previews.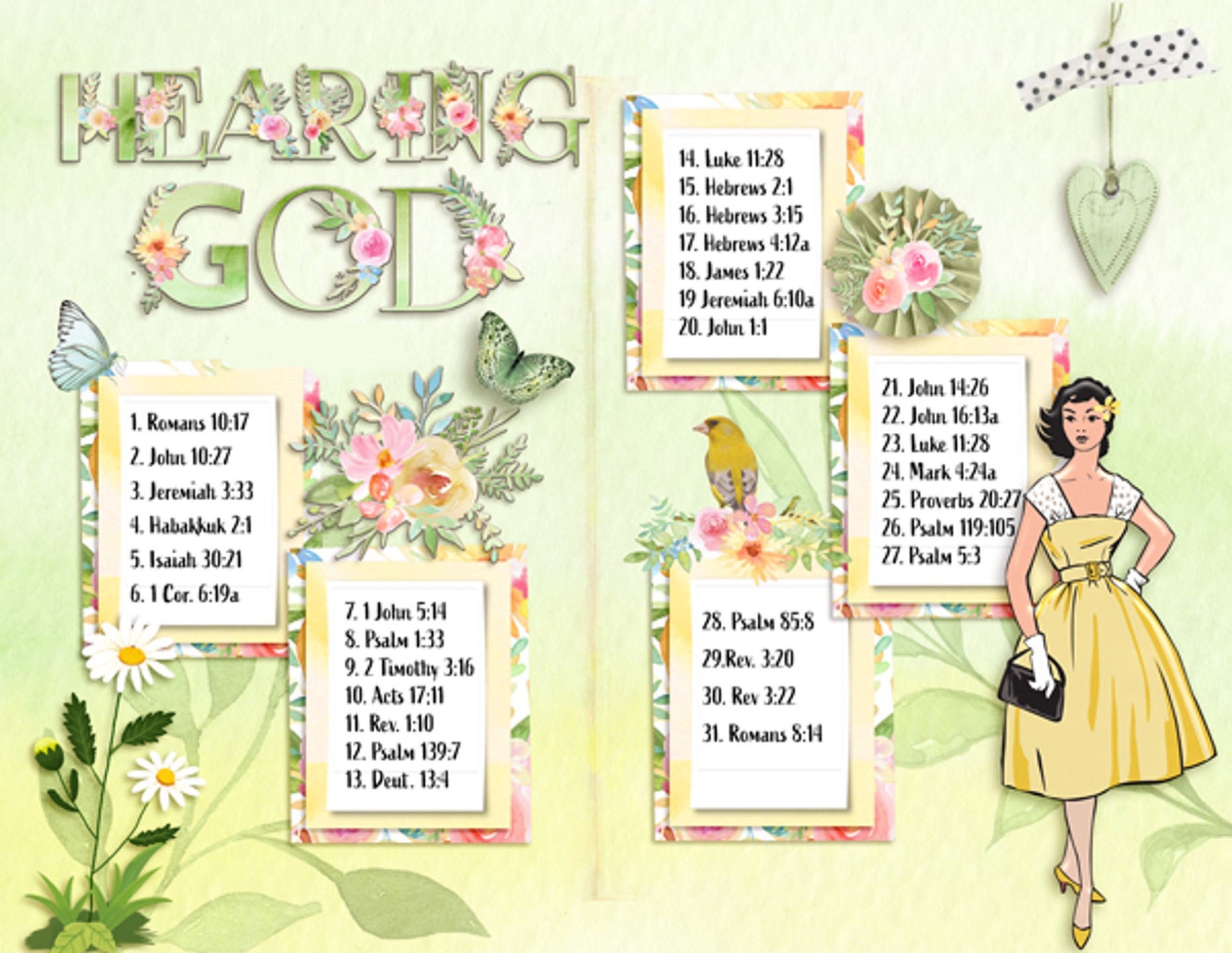 Sample Memory Dex Cards from the Hearing God Kit
YOUR INSTRUCTOR
Hi, I'm Robin Sampson McCarthy. You can learn more about me here.
I have taught Bible studies for 30 years and now I design Bible Journal kits to use with the studies. 
I teach ladies seeking a closer relationship with God how to study His Word and Bible journal while creating beautiful pages using paper crafting and artsy digital methods. 
Bible journaling feeds my soul - and I'm excited for it to do the same for you!
Over 20 years ago I found a structured strategy to unlock the treasures of God's Word to see it as one unified story. We journal through the entire Bible in one year using the 12 Bible Eras method studying each era for one month. 
BibleJournalClasses is a nonprofit organization. Proceeds go to research, lesson development, and artwork. 
When does the course start and finish?
How long do I have access to the course?